Navigation
✦ Home
✦ About Me
✦ Archive
---
Social Media



---
Other Cool Sites




---
Grill Art By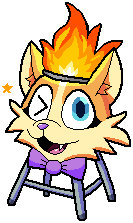 About Me ✦
I may be a literal grill on the internet, but my name is Borealis Capps in the offline world. I'm an award-winning poet and author living with my two cats and partner in Portland, Oregon. Over the years I've worked for a circus, edited board game rulebooks, explored the world of esports, played around in the Pokémon TCG, and currently work in entertainment news.
On the less business-oriented side of things, I'm queer, disabled, and a fierce fighter for all marginalized people. While all those adventures above sound exciting, they also included a stint with homelessness. All of these things have informed how I act today. To put it simply: If you lean towards the right you won't like my content or me so kindly escort yourself elsewhere.
Currently, I'm watching Groundhog Day once a day, every day, as part of the film's 30th anniversary. This resulted in musings for quite awhile on a podcast called Didn't We Do This Yesterday? and is likely to result in plenty of essays of both the text and video variety you'll be able to find on here at some point.
You might also find me enjoying a wide variety of board games, toying around with odd older game consoles like the Leapster L Max or Casio Loopy, or watching whatever weird movie or show I've somehow come across. That or continuing to amass my cursed collection of VHS tapes... Of course, I'm also often consuming anime seasonally while trying to watch older classics to learn about the medium. If you're interested in what I'm currently digging into, I've got all the info you'll need right below!
---
✦ Currently Watching: Tsurikichi Sanpei, Sasami-san@Ganbaranai, Helck, Hyakushou Kizoku, Interviews with Monster Girls, My Happy Marriage, Otaku-chans, Reborn as a Vending Machine, I Now Wander the Dungeon, The Duke of Death and His Maid, The Girl I Like Forgot Her Glasses, The Masterful Cat is Depressed Again Today, Undead Murder Farce, Zom 100: Bucket List of the Dead, Mangirl, Sekko Boys, Here Is Greenwood, and Sacrificial Princess and the King of Beasts.
✦ Currently ReWatching: Revolutionary Girl Utena and Medabots/p>
✦ Currently Reading: Queer Transfigurations: Boys Love Media in Asia and The History of Hentai Manga
---
Want to share my cool site with other people? Here are some buttons!


© 2023. All rights reserved. - Page last modified 2023.07.22 - The Grillout was created June 21, 2023.