Navigation
✦ Home
✦ About Me
✦ Archive
---
Social Media



---
Other Cool Sites




---
Grill Art By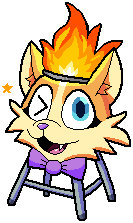 The GrillOut ✦
The home of Borealis, aka the LiteralGrill
Inspired by late 90s and early 2000s fansites of yore, The GrillOut is a no-frills site built to load fast and have tons of fun things to read! You can expect essays, reviews, and general musings with a focus on anime, cartoons, and generally obscure media.
Expect posts to go up at least once a week on Fridays, with potentially other spontanious things popping up inbetween as I'm inspired by the events of the day. You can see a smapling of my most recent works below and check out the full breadth of my work in the archive
---
Big Brother 25 Is Openly Televising the Abuses Disabled People Experience Every Day - Posted August 16, 2023
I will admit, I work in entertainment journalism and was asked to watch Big Brother's 25th season to help with news coverage so I am no super fan. However, when I saw that the show would feature deaf contestant Matt Klotz I was cautiously excited. I'm disabled and it's not too often you see folks like me on competition based reality TV shows. Then when they do, they can end up like Kelly Bruno on Survivor, voted out over fears of said disability getting sympathy votes from the jury. So I was hoping this likable fit guy could be someone I rooted for to go all the way and be excited for. Unfortunately, that is no longer the case.
---
How I Unearthed A Forty-Year-Old Piece Of Mario History - Posted July 17, 2023


"When you look up what Mario's first voice was people point to the 90s cartoons or Mario's Game Gallery or something but this predates both of them... This is Mario's first voice." YouTuber Clue had no idea this bold claim would set me on an epic quest. And while Clue was technically incorrect, their enthusiasm over an old vinyl record led to me unearthing a forty-year-old piece of Mario history. So who really was the first person to voice the most famous plumber in gaming?
---
The Animated History Of Treasure Island: Mel-O-Toons (1960) - Posted June 28, 2023
Next on my quest to watch ever animated adaptation of Robert Louis Stevenson's Treasure Island was the version made by New World Productions as part of its Mel-O-Toons series. Wait, you know Mel-O-Toons right? Those cartoons John Oliver referenced that one time that no one probably noticed?
---
© 2023. All rights reserved. - Page last modified 2023.07.19 - The Grillout was created June 21, 2023.